Hi Ed
I have 5 TWH's. All of them I have broke and trained by myself and they are really great. I got a colt last fall and this year he turned three and I started him. He's got a little more energy and is more willful than my other horses so he's been a challenge from the beginning. I've been thrown from him three times, as he spooked under saddle when I was paying attention to something else and allowed myself to relax too much. The last time though was when I didn't listen to my gut instinct which told me he was to riled up to ride that day, but I got it in my head that I wanted to try him bareback. He had me off of him in about 3 seconds. The problem is that my confidence is broken and I am extra cautious now. I don't trust this colt now though and when I feel him tense up, it makes me nervous because I think he is capable of blowing up unexpectedly. If he's tense when I first mount up, I get off and walk him a little ways and then get back on. If he's still tense, I go further. I can't make myself get into the saddle again unless he's relaxed. I don't know whether to keep this up and just go slow like I've been doing, or put him up until I get my confidence back and then start back with him in the spring with a concentrated effort. I have about 30 hours of trail time with him already and he's shown himself to be an outstanding trail prospect, but since he threw me bareback, I've been concerned that he understands now that he can get me off of him if he really felt like it and that is always in the back of my mind. What do you think?
Collette, Indiana
Hi Collette,
Prior to beginning any training program you will want to rule out any pain or medical issues that may be causing the bucking. First, if you have not had your horse treated recently by an equine dentist, I would highly recommend that. There are many dental complications that can cause a variety of negative responses from your horse. Bucking could also be a saddle fit, chiropractic or deep muscle or organ pain issue that should also be addressed prior to training. I highly recommend that you have your horse examined by, preferably, an equine osteopath or if there is not one available in your area then an equine chiropractor, and/or an equine massage therapist. Once you know you've ruled out or treated any pain issues then you can resume your training.
I don't recommend bareback riding especially on a green horse. Horses are much more comfortable with the saddle and pad distributing your weight over a wider area of his back instead of your weight concentrated from your two seat bones into a smaller spot on his back.
I'm glad to know you are doing groundwork with your horse now. In order to rebuild your confidence I would suggest doing more extensive groundwork before riding again. Have your horse wearing his saddle and a bridle without reins as you do this groundwork with a good rope halter and 12 foot lead rope. You may want to do this ground work program during the winter and as you feel your confidence increase and your horse grows more accustomed to his tack and to taking your instructions then you may start riding again in the spring. In other words, slow down and back up in your training a few steps to the things that were going well for you. Take your time and rebuild as if you were starting all over with him.
If you don't already, I would recommend you use a specific groundwork regimen that will give you a systematic program with particular exercises to perform. Stick with the program but don't do the exercises as a boring ritual. Make them interesting for your horse by doing them in different locations and using obstacles to go over, under and around. Always do the exercises with an attitude of fun and with the goal in mind of making your cues smaller and lighter. Seek lightness and clarity of body language communication. See how little it takes to have him perform each exercise.
Our Six Keys to Harmony program of six essential exercises http://www.eddabney.com/video.htm teach you techniques for establishing respect and trust with your horse and achieving light responses from your horse. The exercises will help your horse to be calm, focused and willing, and they will increase his coordination for precise and fluid movements as well as to increase his flexibility. These exercises will open a line of communication and prepare both horse and rider mentally, physically and emotionally for a more productive, safe and enjoyable ride.
When your horse is nervous or distracted you will have built in cues for controlling all the horse's body parts and will be able to ask him to perform these exercises on the ground or mounted to bring his focus back to you and to help him "find himself" again by doing something that is comfortable and familiar to him. Giving your horse lots of little jobs to do will gain his attention, keep his focus on you and establish you as the leader who makes all decisions about speed and direction.
Once you start riding again always do your ground work exercises as a pre-ride checklist to have your horse paying attention to you and to help him relax. If he is still tense when you mount up or you feel him tense up during the ride you may always dismount and have him perform these ground exercises again to help him relax. This will be more effective than dismounting and just walking along the trail with him. Asking him to perform the exercises when he is tense will cause him to have to think about you and your requests and will help him to relax.
With a more extensive and vigorous ground work program, you'll see his strong will begin to melt into peace and trust under your good leadership. As he builds the habit of responding to your ground requests, your trust in him will increase and you will feel more confident in riding him again. Don't rush it. You can never go too slow. You'll know when you are ready to ride again. Let yourself be ok with the idea of maybe not riding him again for a few months until you have everything worked out very well on the ground first. He is still in training and learning more and more about listening to you and trusting you.
Enjoy the Journey,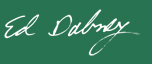 Ed Dabney is an internationally acclaimed clinician, presenting horsemanship and riding clinics all over the US and in Europe. In 2007, Ed was named Champion of the East Coast Trainer Challenge Series by Equine Extravaganza. Ed was honored to have been selected by the University of Georgia to teach their senior level Young Horse Training course.
His training articles have appeared in many major national magazines. Ed produces instructional videos and the "Gentle Horsemanship" TV program which has been seen on RFD-TV.
Ed's blending of natural horsemanship and classical equitation has made an indelible mark with students all across the United States and now also in Europe, drawing the attention of serious riders searching for the lightest touch and the deepest connection with their horses irrespective of breed or discipline.