Horsemanship and Riding Instruction Goals

Please e-mail ed@eddabney.com to book a lesson or call 770-856-8250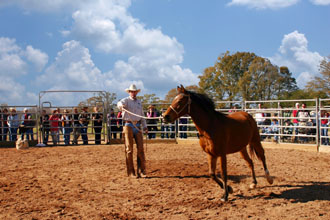 A lesson plan is designed for each individual student to cover the topics that are of particular interest to you. The program can be designed to fit your goals, your schedule and proceed at your pace. Ed can provide lessons at our facility or yours.
Our lessons generally begin on the ground teaching six different exercises, known as the "Six Keys to Harmony", which help establish your leadership and open a bridge of communication with your horse. Then we will apply all these essential exercises mounted with consistent use of cues and body language communication. Much of the lesson emphasis is on rider safety, clear communication, light responses and quality of control of speed and direction.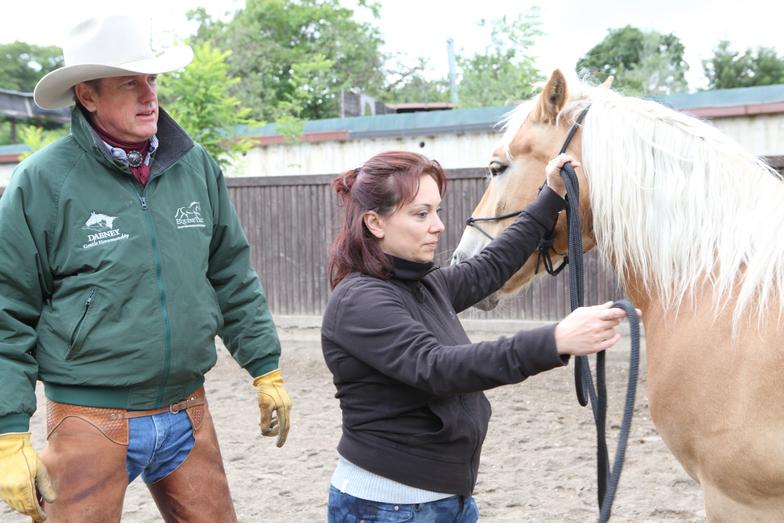 Ed's teaching style is very clear and straight-forward, giving students a
methodical and systematic approach which is easy for both horse and rider to understand and apply. Ed's gentle methods have been proven effective by successfully working with hundreds of horses and humans. You will learn problem solving principles and teaching techniques that work with the horse's nature and instincts in order to overcome resistances with confidence, patience and understanding.
Our lessons are applicable to any riding discipline. You will develop a better relationship with your horse- lighter responses, more respect, trust, and harmony. You will understand how your horse perceives the ideas you present to him and how to communicate with him in the way he communicates with other horses. This is all accomplished with respect for the horse by using gentle, natural horsemanship techniques.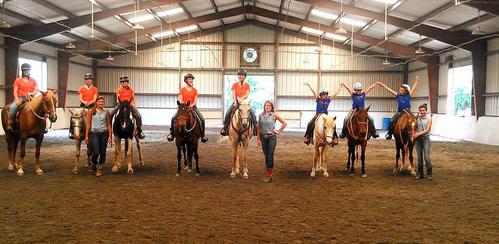 Beginners as well as advanced riders have found the skills taught in our lessons to be very useful. Ed's system of working with horses builds confidence in handling horses on the ground and mounted, equips owners with natural communication skills and establishes their authority as a confident, consistent leader for their horse.
Our seat lessons help you find your balanced, independent seat so you feel more secure in the saddle. You'll learn how to ride from your core, anchored into the horse so you cannot be dislodged. You'll discover how to eliminate bouncing and flow with the horse by allowing him to move you with his rhythm. With the safety of being on one of our good, calm lesson horses and being on the lunge, you will be able to really concentrate on improving your centered seat. You'll learn how to loosen up, relax and absorb the motion of the horse in your middle body.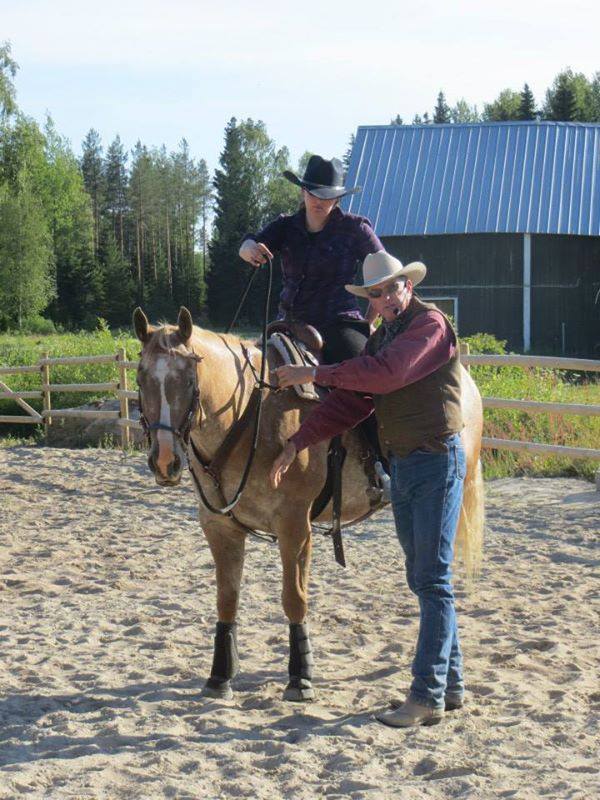 You cannot hope to control the horse if you cannot first control your own body. Having a sympathetic or independent seat means you are not interfering with the natural motion and relaxed stride of the horse by being tense or gripping with the hands or legs. By being in full control of your body you will have clarity of the aids by being able to use your legs and hands for clear communication to your horse rather than using them for keeping yourself in the saddle. These seat lessons have proven to be very helpful even for experienced riders.
Our training and lesson facility is a beautiful, quiet place with a nice barn, shady pastures, large arena, round pen, big lake, wooded trails and our new "Adventure Trail Obstacle Course"!
We have plenty of nice lesson horses to help you build your skills and confidence.
Youth Lessons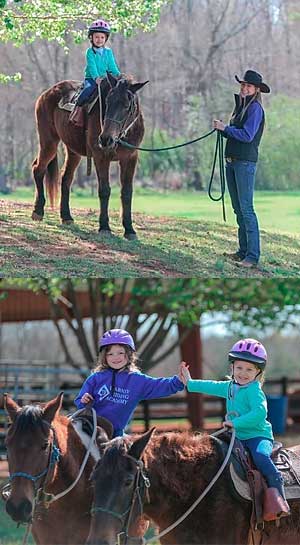 Youth lessons are a great way for riders of all skill levels and ages to build confidence and enhance their skills for all diciplines of riding. We teach our students to relate to their horses in the way their horses naturally relate to each other.
Learn more about our fifth-generation techniques and more information on our youth lessons by visiting
dabneyridingacademy.com
Drill Teams

For complete information on our mounted drill teams for all ages please visit http://www.diamonddcowgirls.com/
Meet the Diamond D Cowgirls:
Under Georgia law an equine activity sponsor or equine professional is not liable for an injury to or the death of a participant in equine activities resulting from the inherent risks of equine activities pursuant to chapter 12 of title 4 of the official code of Georgia Annotated.