Horse Training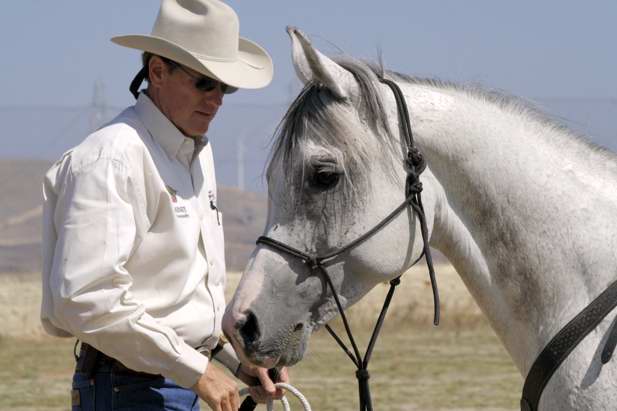 The Dabney Gentle Horsemanship training methods have been developed over two decades of conscientiously working with horses and their owners to achieve a consistently successful method of training. Our comprehensive program covers catching, leading, respectful ground manners, de-spooking, hosing, fly spray, trailer loading, standing tied, picking up feet, saddling, riding in a snaffle bit at all speeds in arena, open country and trail riding. Our goal with every horse in training is to develop a respectful, responsive, trustworthy horse. Your horse may breeze through most of these fundamental lessons allowing us more time to work on specific issues and riding.
The Six Keys To Harmony is the foundation of our training program. Developed by Ed Dabney as a consistent method of daily evaluation, it is a system of six ground exercises that we will teach your horse. It is the response that we receive, to the request of each of these exercises, that shows us your horse's attitude, his willingness to respond to instruction and also, is an indicator to us, if the horse is having trouble responding to one or more of the exercises, because he has limitations due to an injury or pain issue. We have excellent professionals that work closely with us to identify problems that can be remedied by massage, chiropractic adjustment or prescribed stretching or range of motion exercises that we will do to improve your horse's physical health, strength and ability to perform.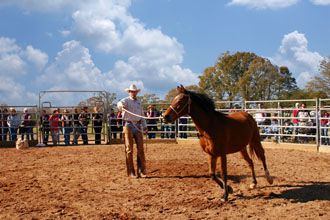 The Six Keys To Harmony develops and establishes respect and trust, working toward achieving light responses from your horse. By employing these exercises, your horse will be more responsive while riding and well-mannered on the ground. The exercises will help your horse to be calm, focused and willing, and they will increase his coordination for precise and fluid movements as well as to increase her flexibility.
We will help your horse to become brave and more confident. We will do lots of "de-spooking" from the ground, in our arena, on the 17 challenging obstacles on our Confidence Course and on our trails, all done in a gradual way to build your horse's confidence without overwhelming her.
Our program uses gentle communication and absolutely no violence or rough handling. A relationship of mutual respect and trust is built between horse and human.
The complete training and boarding fee is $1,600 per/month. Your horse will be worked with five days a week to provide consistent instruction to achieve the best results from his training. You will be able to visibly see evidence of improvement in your horse's behavior very early in his training period. Most horses respond very well in a two-month period of training and present a very different and recognizably improved horse, in attitude, response and behavior after that time. Depending on the desired results you are seeking in your horse, it will be up to you to decide the extent of training and expertise that you would like your horse to achieve by the period of time that you choose to keep your horse in our training program. We always love to have the opportunity to work with both you and your horse, through lessons and training, to develop your horsemanship and leadership skills so that you may have the most enjoyable relationship possible with your horse.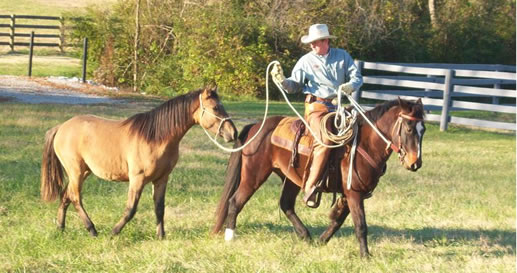 Your horse will be in an individual paddock and we will provide hay, water and salt block. Your horse may be put in a stall for the night or daytime depending on the season and your preference for her care. We feed twice a day and will be happy to feed any grain and supplements you provide. If you prefer, we can gradually switch your horse over to the feeds we use with all our horses - Tribute Equine Nutrition. This is the best, high quality feed I have ever used. http://www.tributehorsefeeds.com/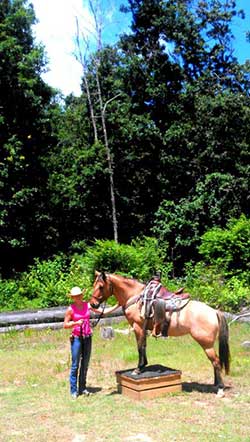 You are welcome to come watch any of your horse's training sessions. To observe training sessions, please call Elizabeth at 404-695-1662 to schedule an appointment at least 48 hours in advance so we will know to wait and work with your horse at the time you are going to be here on those particular days.
During the training period, two hours of lessons per/month are included in the training fee, in which we will work together with you and your horse. Toward the end of the training program, we'll make appointments for personal instruction with you in order to transfer the cues and exercises so that you can be consistent with your horse's riding and handling. After successful response to your horse's training is evident, we will want you to ride your horse while she is still here with us, so that you are able to feel confident in her behavior and response.
We train at the horse's pace. We don't rush them through the program in order to finish up on a certain date. This type of training is not an exact science that we can manage strictly by a calendar.
Our training program takes the horse's mental, physical and emotional state into consideration. We build trust and confidence and bring your horse through the program in a way that keeps her calm and thinking rather than overwhelming her and making her anxious.
Please print then fill out and sign the Training Contract and Release Agreement. Please mail these forms to us at 1034 Hodges Circle; Mansfield, GA 30055 along with a copy of your horse's coggins and $100 deposit to hold your spot on our waiting list. All payments may be charged to your credit card if you wish with an additional 2 1/2 % credit card fee. Your deposit will be applied to the training fee. The balance of the first month's training and boarding fee will be collected when your horse arrives here for training.
We look forward to working with you and your horse.
Please contact us at:
training@eddabney.com
Colleen 770-856-8250

Under Georgia law an equine activity sponsor or equine professional is not liable for an injury to or the death of a participant in equine activities resulting from the inherent risks of equine activities pursuant to chapter 12 of title 4 of the official code of Georgia Annotated.