Hi Ed
My Arab is a 6 year old mare and she is over-reactive to insects on the trail. She's not spooky about things, but comes completely undone when those big black flies land on her. She totally panics and has almost dumped me on many occasions. I understand about desensitizing, but don't know how I can desensitize for fear of big black flies. She even gets antsy and jiggy if a tick starts climbing on her. I can throw things around her head or her legs and she never moves. It's just the insects... If we could overcome this, I'd be relieved. Any suggestions?
Michele
Hi Michele,
It sounds like you've done a good job with your mare as far as desensitizing her. It's hard to desensitize her to things that are beyond your control so you want to be sure you have taught and practiced with her some very good basic control cues especially one rein lateral flexion and disengaging the hindquarter so that when she does panic you can regain control quickly to avoid being "dumped". When she becomes "antsy and jiggy" you want to be able to direct that energy into constructive exercises that you and she know well and have practiced in calm training sessions. You should know how to ask her and she should know how to do lots of different movements such as:
flex the neck laterally left and right
move the hindquarter left and right

move the shoulder left and right

back up

shoulder-in

side-pass
All these movements should be taught on the ground first then practiced in the saddle so when she becomes distracted by insects you can refocus her attention on you by giving her lots of little jobs to do, moving different parts of her body in different directions. Change the jobs quickly to keep her really busy thinking about the job at hand and paying attention to your next request. You can't make her stand still or be calm but you can give her something to do with her energy. She will be able to release her nervous energy by moving her feet but in a constructive way that you are directing. For a full description of these essential exercises performed on the ground and mounted please see our instructional DVD, "Six Keys to Harmony" on our web site at http://www.eddabney.com/video.htm Also be sure and fly spray her thoroughly before venturing out on the trail.
As far as desensitizing to insects, my main suggestion is to let her live outdoors in a pasture 24/7 so she can learn to deal with the insects on her own. Horses that live outside, like they were designed to do, usually learn to cope with all the insects. If it is impossible for you to let her live outdoors in your present situation then it would be well worth it to board her somewhere for a month or so where she could live outside with other horses in a large open pasture.
Enjoy the Journey,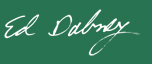 Ed Dabney is an internationally acclaimed clinician, presenting horsemanship and riding clinics all over the US and in Europe. In 2007, Ed was named Champion of the East Coast Trainer Challenge Series by Equine Extravaganza. Ed was honored to have been selected by the University of Georgia to teach their senior level Young Horse Training course.
His training articles have appeared in many major national magazines. Ed produces instructional videos and the "Gentle Horsemanship" TV program which has been seen on RFD-TV.
Ed's blending of natural horsemanship and classical equitation has made an indelible mark with students all across the United States and now also in Europe, drawing the attention of serious riders searching for the lightest touch and the deepest connection with their horses irrespective of breed or discipline.