Hi...
I have a TWH that I got last Fall. Sarge is 12 and had been basically left out in a pasture for a year and not ridden much. He was a bit thin so we spent the winter trying to get some weight on him. We did ride occasionally and did some ground work too. He is very willing, calm, cooperative and has good ground manners. We are now starting to ride regularly and I notice he will drop his head and pull at the reins as soon as we start any faster than a walk...any suggestions?
Thanks in advance!
First I would have him treated by a genuine Equine Dentist to make sure the behavior is not being caused by pain in his mouth. Next I would have him examined by an Equine Osteopath or Equine Chiropractor to determine if there is a spinal misalignment or vertebrae blockage that could also be causing him to seek relief by dropping his head. Once dental, medical or pain issues are treated or ruled out then you can address the issue from a training standpoint.
When your horse drops his head and pulls at the bit, instantly close one hand and let him run into one side of the bit. This will turn his head laterally and result in him coming off the bit. This method is most effective if you ride with a simple snaffle bit. If you hold or pull with both hands your horse will have a very satisfying solid bar of the bit to push against. Holding only one rein gives him nothing to brace against. Don't get in a pulling fight with him. He can pull harder than you. Use biomechanics and body positioning to discourage his pulling habits. He'll have a hard time continuing to pull against the bit and reins if his head is turned off to one side. Make sure you instantly release your hold as soon as he comes up off the bit. Do not continue to pull his head up after he has already come up off the bit. As in the old saying, "Ride with iron hands in velvet gloves", offer your horse soft hands as long as he carries himself correctly but one hand becomes iron as soon as he tries to pull the reins.
Enjoy the Journey,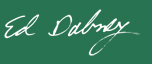 Ed Dabney is an internationally acclaimed clinician, presenting horsemanship and riding clinics all over the US and in Europe. In 2007, Ed was named Champion of the East Coast Trainer Challenge Series by Equine Extravaganza. Ed was honored to have been selected by the University of Georgia to teach their senior level Young Horse Training course.
His training articles have appeared in many major national magazines. Ed produces instructional videos and the "Gentle Horsemanship" TV program which has been seen on RFD-TV.
Ed's blending of natural horsemanship and classical equitation has made an indelible mark with students all across the United States and now also in Europe, drawing the attention of serious riders searching for the lightest touch and the deepest connection with their horses irrespective of breed or discipline.