Hello,
I read your article on pasture boarding but I have a couple of questions. My horse has been in the same barn for 12 years. She has never been in a trailer to move anywhere and she has always had a stall. I am thinking of moving her out of there and going to a new farm with pasture board. Would that be a shock for her now that winter is coming? Would she suffer from not being with her friends?
Thank you!
Lisa
Hi Lisa,
Thank you for reading my article. When you first move your horse to the new barn she should be kept in a small corral or paddock for the first few days and maybe put her in a stall at night. This way she can more easily transition to her new environment and become familiar with the sights, smells and sounds. After a few days she can be turned out in the pasture where she will make new friends. She will not miss her old friends or her old barn because horses live "in the moment". That is a good lesson we could learn from horses - to live in the present moment, in the now. They remember but they spend no time regretting the past or worrying about the future. She will enjoy her new freedom to live the way a horse is meant to live, to run and play with new friends in the pasture.
I am proud of you for making this decision for the physical and emotional health of your horse even if it does not seem "cozy" to you. By moving her to pasture at this time of year, in the autumn, she will have a chance to transition easily to outdoor living and begin to grow her winter coat.
Let me know how it goes.
Enjoy the Journey,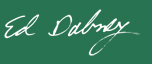 Ed Dabney is an internationally acclaimed clinician, presenting horsemanship and riding clinics all over the US and in Europe. In 2007, Ed was named Champion of the East Coast Trainer Challenge Series by Equine Extravaganza. Ed was honored to have been selected by the University of Georgia to teach their senior level Young Horse Training course.
His training articles have appeared in many major national magazines. Ed produces instructional videos and the "Gentle Horsemanship" TV program which has been seen on RFD-TV.
Ed's blending of natural horsemanship and classical equitation has made an indelible mark with students all across the United States and now also in Europe, drawing the attention of serious riders searching for the lightest touch and the deepest connection with their horses irrespective of breed or discipline.