I want to make the trailer a "nice" place to be.
You might try making the trailer his regular stall or barn by feeding him in there for a few weeks. You'll want to have the trailer attached to your truck or blocked up real good so it doesn't move when he gets on and off. If possible just leave the trailer parked in his pasture with his food and water inside the trailer so he will have to go in and out allot to get anything.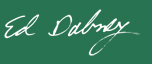 Ed Dabney is an internationally acclaimed clinician, presenting horsemanship and riding clinics all over the US and in Europe. In 2007, Ed was named Champion of the East Coast Trainer Challenge Series by Equine Extravaganza. Ed was honored to have been selected by the University of Georgia to teach their senior level Young Horse Training course.
His training articles have appeared in many major national magazines. Ed produces instructional videos and the "Gentle Horsemanship" TV program which has been seen on RFD-TV.
Ed's blending of natural horsemanship and classical equitation has made an indelible mark with students all across the United States and now also in Europe, drawing the attention of serious riders searching for the lightest touch and the deepest connection with their horses irrespective of breed or discipline.