There are only three directions the rein can move:

toward the horse (indirect rein)
away from the horse (direct rein)
up (backward circles = half halt)

The direct rein moves the hips
The indirect rein moves the shoulders
The left rein always moves the horse to the right
The right rein always moves the horse to the left

Application examples:
Right indirect rein moves shoulders to the left.
Right direct rein moves the hindquarters to the left.
There can only be one active or primary rein. The secondary rein is positional (most of the time held low and straight along the neck with the hand in line with the rider's hip.) The secondary rein is used to slow or stop forward motion and/or prevent the horse from bending into the active or primary rein. The rider's leg on the side of the active rein supports the active rein and provides impulsion.
Half halt is preformed with both hands four inches apart moving together performing small and fairly rapid backwards circles. The purpose is to elevate the horse's head off the bit and off the rider's hands to achieve self carriage. Continuing use of the half halt will result in the horse slowing forward movement, stopping and backing. In order to be effective, contact with the bit must remain all the way around the circle with no slack in the reins.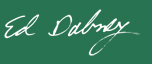 Ed Dabney is an internationally acclaimed clinician, presenting horsemanship and riding clinics all over the US and in Europe. In 2007, Ed was named Champion of the East Coast Trainer Challenge Series by Equine Extravaganza. Ed was honored to have been selected by the University of Georgia to teach their senior level Young Horse Training course.
His training articles have appeared in many major national magazines. Ed produces instructional videos and the "Gentle Horsemanship" TV program which has been seen on RFD-TV.
Ed's blending of natural horsemanship and classical equitation has made an indelible mark with students all across the United States and now also in Europe, drawing the attention of serious riders searching for the lightest touch and the deepest connection with their horses irrespective of breed or discipline.