As far as the "don't break gait" exercise, whether on the ground or mounted the horse should be focused and tuned in to your direction, body language, mental intent and internal energy. I don't want the horse to "trot all by themselves". I want the human to be an active leader constantly showing direction, projecting into the future and giving focus and energy to the horse but not physically peddling the horse into maintaining the gait. When one constantly clucks, kicks, bumps, spurs, whips or otherwise physically keeps their horse in the gait, that, in my opinion, is a disgrace to the horse and develops a dull horse that has quit thinking, is no longer tuned into the rider and has grown dependant on the rider to badger them into maintaining the gait.
I believe physically micro-managing and carrying the horse is wrong. It would be the same as holding the horse constantly on the 10 meter circle. How would the horse ever learn to maintain proper flexion and accept positioning on the circle if we would be willing to constantly hold them on the circle rather than making lots of small corrections when they lose the bend or drift?
What happened to the lofty goal of self-carriage for which everyone seems to strive? If we are willing to bang on the horse with leg or spur every time we feel her begin to think about breaking gait then when do we teach self carriage and how do we develop a horse to the beautiful level of becoming autonomous in executing the requested movement and at the same moment totally attentive to the rider's slightest thought and most subtle cue?
Accuracy + Autonomy = Authenticity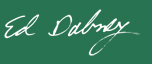 Ed Dabney is an internationally acclaimed clinician, presenting horsemanship and riding clinics all over the US and in Europe. In 2007, Ed was named Champion of the East Coast Trainer Challenge Series by Equine Extravaganza. Ed was honored to have been selected by the University of Georgia to teach their senior level Young Horse Training course.
His training articles have appeared in many major national magazines. Ed produces instructional videos and the "Gentle Horsemanship" TV program which has been seen on RFD-TV.
Ed's blending of natural horsemanship and classical equitation has made an indelible mark with students all across the United States and now also in Europe, drawing the attention of serious riders searching for the lightest touch and the deepest connection with their horses irrespective of breed or discipline.