Fear is a very real thing. This is not to be taken lightly. The rider dealing with fear and lack of confidence should not be pressured to "Just get back on the horse and ride" as others may tell them to do. The best way to rebuild riding confidence is to go back to the basics. Find an instructor who will provide a totally safe environment for the student with compassion and understanding. It is important that the lessons are in private with no spectators.
A major emphasis of our lesson program is in "fear management and confidence building". We usually start by having the student learn our "Six Keys to Harmony" essential exercises to begin building confidence in handling horses on the ground. This confidence will carry over to the mounted work. Then we'll have the student start riding one of our, quiet lesson horses just in the round pen and arena to achieve a good, independent seat and balance. We actually begin this by simply leading the student around at a walk then progress to lunge line lessons at all gaits. Developing a truly balanced, centered and secure seat anchored from the rider's core into the horse is vital to giving the rider confidence in themselves that they won't fall off. By going back to the basics, they'll build up their confidence and begin to regain the feeling that riding can be safe and fun.
We start our lessons in their comfort zone then, little by little, we expand that zone based on the student's emotional and physical capabilities. After they have developed a very secure seat then we make sure they understand and can use all the techniques necessary to gain control of the horse's speed and direction at all gaits. When handled with these gradually progressive techniques and no pressure, stress or rush, it's surprising how quickly the student regains their confidence.
Once the student has developed skills, independent seat and confidence on our lesson horses, then we can help them successfully apply all this to working with their own horse. Their horse needs them to be a confident, consistent leader so the horse can be at peace in their presence.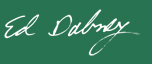 Ed Dabney is an internationally acclaimed clinician, presenting horsemanship and riding clinics all over the US and in Europe. In 2007, Ed was named Champion of the East Coast Trainer Challenge Series by Equine Extravaganza. Ed was honored to have been selected by the University of Georgia to teach their senior level Young Horse Training course.
His training articles have appeared in many major national magazines. Ed produces instructional videos and the "Gentle Horsemanship" TV program which has been seen on RFD-TV.
Ed's blending of natural horsemanship and classical equitation has made an indelible mark with students all across the United States and now also in Europe, drawing the attention of serious riders searching for the lightest touch and the deepest connection with their horses irrespective of breed or discipline.