Hi Ed,
I don´t know if you remember me and my horse Casanova. We were in your clinics in Finland in Kalajoki and Kokkola last summer. I have the Arabian horse which was challenging. No one could ride him. We had also problems with trailer loading.

I am writing to you because I need some advice so I can move on with Casanova. Last winter was very good after we moved last autumn with my horses to my own barn. Casanova is now more peaceful and trusts more to people. I don´t have any problems anymore with handling or trailer loading. I sit on Casanovas back now. I think that many things are changed to better during last winter. Only problem is that when I am sitting on Casanovas back, Casanova don´t move forward. That is the point when Casanova disappears. I have tried to move with Casanova and I have been bucked off every time. It doesn´t help if someone is holding or not. Almost every day I am sitting on Casanovas back but we don´t move. I can do what I want on Casanovas back if I am not asking Casanova to move his legs. I have sat on Casanovas back eight months now. He will do lateral flexion of the neck while I sit on him with no problem. We have done a lot practice of what you gave to us last summer. I gave thinking time to Casanova last winter for a little bit over a month and no progress took place. Many people have many good opinions about Casanova and I have had suggestions of what I should do with Casanova, but I am happy that I have kept my own head and done things by my own way without any help. The best advice and learning I have received is from you and your daughters. That is the reason why I hope that you could give your opinion about Casanova again.

Thank you so much! Laura
Hi Laura,
Of course I remember you and Casanova. It's good to hear from you. Thank you for the full report on your work with Casanova. You have done the right thing by taking it slow, giving him time to think and deciding for yourself what feels right to you without being influenced by everyone else.
I believe Casanova must have a severe pain issue to buck every time he moves when carrying the weight of a rider. You might test this by securely strapping some type of heavy weight like a large sand bag to the saddle seat and sending him around you in a circle on a lead rope.
If he does not buck with this and if the doctors cannot find any pain issues then the next thing I would do is have some tough young man try to ride him using a western saddle so he has more to hold on to and try to stay on him through all his bucking to help Casanova learn that it is ok to carry a rider. The main objective is to be able to stay on and ride through the bucks until Casanova quits bucking. If Casanova can buck you off every time then he learns all he has to do to get out of work is just buck off the rider. You need a rider who cannot be bucked off. A good rodeo bronc rider would be perfect to just stick to the saddle and ride Casanova straight through until he quits bucking. If Casanova is not in pain then I believe he has just developed a habit of bucking. The way to break this habit is to ride him and stay on until he quits bucking then get off. That will teach him that bucking does not get him out of work but riding and moving calmly does end the work. He may have to be ridden several times through all his bucking until he learns that he cannot buck off the rider and that bucking is just lots of hard work but riding calmly is much easier.
If you cannot find anyone who can ride Casanova, I know of a couple of good young trainers in Sweden who I would recommend as good riders who could stay on Casanova through his bucking.
You should not try to move while riding Casanova. If he continues to buck you off it will just make his bucking habit worse plus you could get hurt badly.
I am interested in you and Casanova. Let me know what happens.
Enjoy the Journey,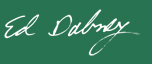 Ed Dabney is an internationally acclaimed clinician, presenting horsemanship and riding clinics all over the US and in Europe. In 2007, Ed was named Champion of the East Coast Trainer Challenge Series by Equine Extravaganza. Ed was honored to have been selected by the University of Georgia to teach their senior level Young Horse Training course.
His training articles have appeared in many major national magazines. Ed produces instructional videos and the "Gentle Horsemanship" TV program which has been seen on RFD-TV.
Ed's blending of natural horsemanship and classical equitation has made an indelible mark with students all across the United States and now also in Europe, drawing the attention of serious riders searching for the lightest touch and the deepest connection with their horses irrespective of breed or discipline.