I would recommend not blanketing your filly. They really don't need blankets especially in the south. Once you begin blanketing you must continue to blanket throughout the winter. Save yourself a ton of trouble and let them grow a winter coat to stay warm. Many times while driving along I have seen horses standing out in pastures on a sunny 60 degree day wearing a heavy winter blanket. Most likely the previous night's temperatures dipped into the 30's or 40's but the owner failed to remove the blanket as the day's temperatures rose. This neglectful behavior by the owner is rude and potentially harmful to the horse. I guarantee the horse is overheating and sweating under that blanket.
In Wyoming my horses lived in the pasture and had a run in shed available to them but they never used it. They were happy to stand out in 15 below zero weather in a blizzard munching hay. They would grow a heavy winter coat and snow would pile up on their backs. As long as they had plenty of good quality hay their body would generate enough heat to keep them comfortable. (Note: if they were losing body heat the snow on their backs would have melted.)
Certainly we prefer to be indoors on a cold or rainy day cuddled up by the fire in a warm blanket drinking a cup of hot chocolate, however, in my opinion, we should allow horses to live in the way they prefer rather than try to force our human characteristics on them. Let them be horses and live outdoors without blankets the way God intended.
Enjoy the Journey,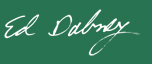 Ed Dabney is an internationally acclaimed clinician, presenting horsemanship and riding clinics all over the US and in Europe. In 2007, Ed was named Champion of the East Coast Trainer Challenge Series by Equine Extravaganza. Ed was honored to have been selected by the University of Georgia to teach their senior level Young Horse Training course.
His training articles have appeared in many major national magazines. Ed produces instructional videos and the "Gentle Horsemanship" TV program which has been seen on RFD-TV.
Ed's blending of natural horsemanship and classical equitation has made an indelible mark with students all across the United States and now also in Europe, drawing the attention of serious riders searching for the lightest touch and the deepest connection with their horses irrespective of breed or discipline.