With Horsemanship and Riding Clinics scheduled in various locations in Finland, Sweden and France including a private clinic for the King of Sweden's Royal Mounted Palace Guards, I began to wonder, with a bit of trepidation, what the people and horses would be like. Though I had traveled to Europe in the past, I had only been there as a tourist, not as a horse trainer and riding instructor. Over the past 15 years I have conducted many clinics throughout the United States, but this would be my first time training horses and teaching riders in other countries experiencing different languages and customs.
The morning of my first clinic in Finland, I walked into the arena with spectator seating at full capacity and twelve horses with riders in the schooling area. I had been assigned a translator, Lilli, an experienced rider and instructor, who walked dutifully by my side, patiently awaiting my first utterance. As I composed myself to begin teaching and working with the horses a myriad of thoughts swirled through my mind – "How would all this take place? Would the riders and spectators understand the principals, methods and concepts I planned to teach? Would the horses understand and respond in a way that is familiar to me or would everything be different?"
Why shouldn't everything be different? We were certainly not in our familiar American surroundings. We were not even in the Europe that most tourists see as far as large cities and famous sights. My daughter, Madeline, accompanied me on this European clinic tour and in just our first few days we had experienced a vastly different type of culture, language, food and travel including the almost surreal night train to northern Finland near the Arctic Circle. We were certainly not in the neon lit tourist meccas, rather the rural setting of quaint villages and open countryside where horses are raised, kept and ridden for recreation and sport.
As I stood in the silent arena gazing at the many faces intently fixed on mine with great anticipation, I knew these people, many who had driven for hours to be here, were here to learn and grow in their horsemanship knowledge and skills. This was our common ground, our united purpose.
Most of them were vaguely familiar with natural horsemanship training methods. They knew there was something out there, a better way, which could help them have a closer relationship with their horse, but no one was bringing the teaching to them in a practical way they could understand and apply. This then was my mandate, my mission – to help people and their horses have a better life together. The most rewarding part of my work is seeing truly interested people build confidence and gain skills and knowledge to make their time with horses more enjoyable, safe and productive.
But how would I relate to them my 30 years of horse experience which has resulted in the development of my particular methods? The techniques I teach blend the concepts of western Natural Horsemanship, working with the nature, culture and language of the horse along with refined Classical Equitation as taught by the European masters of the 17th and 18th centuries.
In that moment I knew the only way I could effectively relate my teachings to people of another culture and language was to use the one thing that had always been my best teacher and the one thing we all had in common – the horse.
I walked to the closest horse in the arena and began working with him. Instantly I realized he and I spoke the same language – not Finnish, Swedish, French or English but Horse. I am fluent in that language. It was very comforting and reassuring to know that in a land far away from my home and in a culture very different from my own I had found an old and dear friend who I knew very well – a horse.
Speaking "Horse" then became a universal language which formed the bridge between cultures. As the riders and spectators observed my work with the horses they were able to understand the movements and the methods. I'm sure Lilli's translations of my verbal explanations were helpful but one never knows how much is lost in the translation between spoken languages. Nothing is lost in the visual and non-verbal language of the horse. Speaking "Horse" is made up of body language, expression, posture, concentration, intent and focused energy. These are all the methods of communication horses use with each other.
Most of my present clients ride in the English discipline of dressage. Because of my western riding and natural horsemanship background combined with my knowledge of classical equitation, I believe I have something to offer the English rider in the understanding of the nature and language of the horse, gently establishing leadership and building a bridge of communication between horse and human. If I can help people understand more about how horses think, learn and communicate with each other then the rider will be able to present his requests in a way the horse can easily understand. In all of my teaching of riders and training of horses, I seek lightness, a light response from a light request because only in lightness is there dignity for the horse and for the rider.
The methods I teach are not new; in fact they are ancient wisdom. One of my favorite quotes is from a first century master Greek horseman, Xenophon:
"For what a horse does under constraint, he does without understanding and with no more grace than a dancer would show if he were whipped or goaded. Under such treatment man and horse alike will produce much more that is ugly than graceful."
Enjoy the Journey,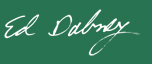 Ed Dabney is an internationally acclaimed clinician, presenting horsemanship and riding clinics all over the US and in Europe. In 2007, Ed was named Champion of the East Coast Trainer Challenge Series by Equine Extravaganza. Ed was honored to have been selected by the University of Georgia to teach their senior level Young Horse Training course.
His training articles have appeared in many major national magazines. Ed produces instructional videos and the "Gentle Horsemanship" TV program which has been seen on RFD-TV.
Ed's blending of natural horsemanship and classical equitation has made an indelible mark with students all across the United States and now also in Europe, drawing the attention of serious riders searching for the lightest touch and the deepest connection with their horses irrespective of breed or discipline.