Humans, horses, wildlife and nature in general lost a good friend when Thompson Dabney passed away on February 27, 2006. My Dad was a kind and gentle man, a friend to all. He was a naturalist and a conservationist long before these became popular attitudes. He loved the outdoors, wildlife and all of God's beautiful creation. He believed in treating people, animals and the land with respect and dignity.
Because of his generosity and talents lots of folks learned to enjoy horses and riding and many horses had better lives as well.
Growing up on my parent's horse farm was an ideal life for a skinny kid who loved horses. I enjoyed many wonderful hours working and riding horses with my Dad. It just doesn't get any better than that. The life lessons I learned around the barn have served me well all my life.
My Dad always had a gentle, natural way around horses and treated them well. He taught me, at an early age, how to ride with lightness and how to have the proper relationship of respect, trust and leadership with my horse. His talent and wisdom with horses became the foundation for the horsemanship methods I use and teach today.
One particular incident that occurred when I was a young boy made a lasting impression on me. My Dad's Tennessee Walking Horse mare gave birth to a beautiful foal which was born on my Dad's sister's birthday so he named the new filly "Sis". Sis was exceptionally beautiful with excellent confirmation and a remarkable gait. Because of this, when she was a young filly and riding well my Dad was encouraged to send her to a show trainer who would begin Sis' career in the competition of Walking Horse Shows. Our family had never done any showing so we were unfamiliar with the whole show world including the questionable training methods and the numerous "tricks of the trade".
One Sunday afternoon, soon after Sis had been sent to the Walking Horse show trainer, my Dad announced to my Mother, my brother and myself, "Let's take a drive up to Nashville and see how Sis is doing." We all hopped in the car excited to make the 120 mile drive to go see our great show prospect, Sis, at the renowned show barn. Upon our arrival the trainer was visibly disgruntled about our unannounced visit. My Dad overlooked the trainer's cold reception as he asked how Sis was doing and explained that we would like to see her. The trainer made some grumbling objections but went to the barn anyway to bring Sis out.
When she was led out of the barn she was definitely doing some very animated "high stepping" with her front feet. We had learned that this was the kind of movement the show judges liked to see. We were thrilled seeing her moving out like a real show horse until I glanced at my Dad and saw that he wasn't smiling and had a dark look on his face. He had noticed that Sis was very troubled and seemed to be in pain.
My Dad asked the trainer to bring her to a stop and he swiftly walked over to her and began gently rubbing her all over looking for the source of the pain. When my Dad picked up her hooves to check underneath he gasped with shock. We were horrified to see that her frogs had been recently cut and hot mustard had been packed in the open wounds.
My Dad immediately confronted the trainer and demanded an explanation for such unthinkable treatment. The trainer became quite defensive in explaining that this was a common practice in the Walking Horse show world if one wanted to win shows. He went on to boldly suggest that we should go home and leave the training up to him.
My Dad agreed that we would go home but was quick to add that we would only be going home long enough to hook up the trailer and come right back to pick up Sis and bring her home. Then the trainer became angry and began ranting loudly all about training contracts and lawsuits. As we were getting in the car my Dad replied to the trainer, "I hope you do sue us for breaking the training contract, then we'll see what the judge thinks about the so called training methods you use here."
We made the long drive home mostly in shocked silence. My Dad returned to the show barn that night, picked up Sis and arrived back at our farm in the wee hours of the morning dead tired but comforted by knowing his precious Sis was safe at home and that her "show career" was over forever.
Sis enjoyed many years of wonderful riding on the farm and trails under the care and guidance of her "gentle horseman", my Dad.
I sure miss my Dad. He was and still is my Hero.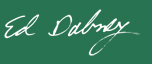 Ed Dabney is an internationally acclaimed clinician, presenting horsemanship and riding clinics all over the US and in Europe. In 2007, Ed was named Champion of the East Coast Trainer Challenge Series by Equine Extravaganza. Ed was honored to have been selected by the University of Georgia to teach their senior level Young Horse Training course.
His training articles have appeared in many major national magazines. Ed produces instructional videos and the "Gentle Horsemanship" TV program which has been seen on RFD-TV.
Ed's blending of natural horsemanship and classical equitation has made an indelible mark with students all across the United States and now also in Europe, drawing the attention of serious riders searching for the lightest touch and the deepest connection with their horses irrespective of breed or discipline.