Cattle Drive
On Friday at 1:00 PM we will gather on horseback in the QC Ranch covered arena for a short orientation before riding out on the open range to gather a herd of cattle and drive them back to the arena. This round-up and cattle drive will take a few hours. We will finish with the cattle we will be working with on Saturday bedded down in corrals adjacent to the arena.
In the beginning some horses may be nervous and frightened near the cattle. We will first work through this by teaching the horse that he is dominant over the cow. By following one particular cow (tracking) the horse learns he can move the cow. When he knows the cow will not attack him, the horse gains confidence and the cow work becomes fun for him.
Many thanks to Whitney Granberry for producing this video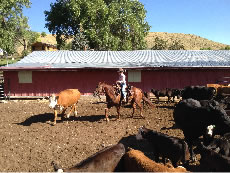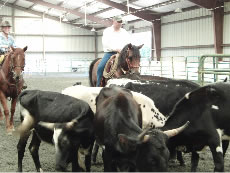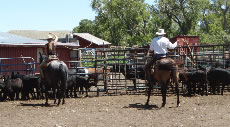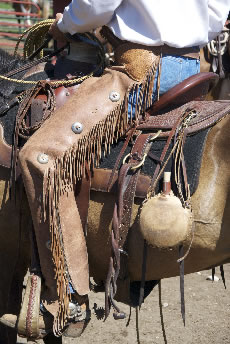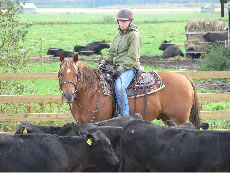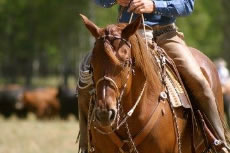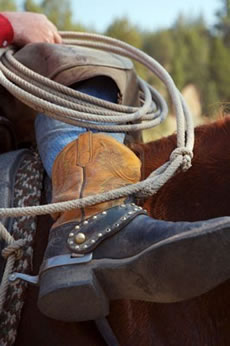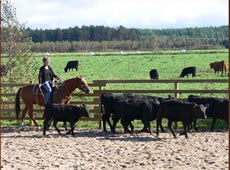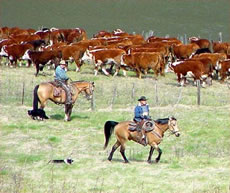 Cow Work
On Saturday 9:00 – 5:00 we will be working with the cattle in the covered arena and corrals. This is not for rodeo or competitive sport. We will be teaching and practicing "low stress stockmanship" for practical ranch work skills. We may do some penning, sorting and cutting, not as a timed event but rather the way a real working cowboy handles his daily tasks.
The riders will be grouped into "ranch crews" and assigned tasks that require teamwork and good horsemanship. Tasks could include such things as dividing the herd, taking certain cows to a different location in the arena and holding them there, sorting selected cows away from the herd, putting selected cows in a corral, taking cows through gates and obstacles, and holding or driving the herd in the open without using the fence or corners.
Ranch Horsemanship
Cow work develops a much better communication and partnership with your horse. Your horse will learn how to listen to your cues and move responsively. Working with cattle gives your horse a practical reason for listening to you, really using his body to become more athletic and coordinated and moving in a variety of ways quickly, smoothly and under control with your direction. Riders will learn to properly execute specific movements which are necessary to be successful in ranch and cattle work including turn-on-the-forehand, turn-on-the-haunches, rein back, side-pass, leg yield, roll back, quick gait transitions and solid stops.
Beginner Roping
If riders are interested and if time permits, we can offer beginner roping instruction from the ground on roping dummies and then from the saddle.

Throughout the clinic, the riders are never required to do anything with which they are not comfortable or which they feel their horse is not ready to attempt.
This clinic is an excellent opportunity to develop a better partnership with your horse, add some variety in your horseback activities, learn new skills and have lots of fun!
Quote from Ed about this clinic:
"The emphasis of the clinic is on using the cows to build a better partnership with your horse. The cow work will develop more confidence, forward impulsion, lighter responses and more fluid movements plus it's just lots of fun for horse and rider both to play with cows! Lots of my dressage students like to ride in this clinic to give their horses a definite job in using the dressage movements to work cows. The cow work gives their horses a break from constant schooling and helps them become more versatile as all-around riding horses."
Here are a few testimonials from participants in our past Cow Working Clinics:
_________________________
I had a great time at the Cow Working clinic this week-end. I learned a lot about riding, horses, the history of riding, life on a ranch and being a cowboy in the west, and more. I appreciate your approach to horses and teaching. After a nervous start, my horse Brisco seemed to love it, especially cutting one cow out of the herd. That just seemed to line up with his personality.
Thank you again for a great clinic.
Clare Connell
_________________________
Ed, Just wanted to thank you again for your help this weekend at the Cow Clinic. It was a lot of fun, greatly benefitted my horse -- and may have saved me or someone else from serious injury due to his fear of cows. When we left, he saw all of the new cows in the front pasture. He was on high alert, but he was manageable and not dangerous!
Thanks again
Martha
_________________________
Ed, I just wanted to tell you how much I enjoyed the clinic. Daniel and I were so proud of Spirit!…I hope you were too. Your cowboy assistants were so knowledgeable and patient with everyone, they were a wonderful asset for you. Thanks a bunch,
Ann C
______________________________________
Hi Ed,
I wanted to tell you how much I enjoyed this past weekend. That's more riding than I've done in quite awhile but I couldn't have asked for a better clinic experience. You may hear this all the time but you truly do have a very unique and blessed talent for teaching horses and humans! Everything about the clinic was so well thought out... everything made sense... and Jim and Richard... well, I don't think you could have done any better in bringing them in to the mix! Mike was wonderful support as well. And it was such a pleasure to meet Colleen!
One of the longest lasting lessons I will take away from this past weekend was that I gained so much self-assurance in tackling something new. I never once worried about what my horse was doing. I never felt disconnected with him. I felt as one with him and that is a great feeling. This speaks volumes as to how well the overall clinic was conducted.
You, Jim, and Richard gave us all some great homework assignments. My birthday wish list includes a new Ed Dabney saddle pad and a rope!
Ann H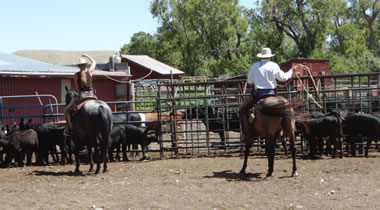 Open Range Cow Working Clinic in Finland - September 2012
Slideshow Cow Working Clinic in Finland - May 2012