(Read part 1 of horse dressage the article here.)
All is still and quiet in the arena and everyone politely uses their best "golf announcer" voice to speak in hushed tones so they don't, heaven forbid, frighten the poor horse. Everything may be under control in the safe enclosure of the well defined and restricted space of the arena but alas, truth is revealed once all the boundaries are removed. Is the rider really in control of every decision concerning speed and direction or does the horse now take over making those decisions?
I've trail ridden some show horses that had previously only gone from their stall to the arena and really did not know that the earth is not flat and made of smooth sand. Their first encounter with a ditch, creek or hill was a major life event for them. They considered simple topographic features as monumental obstacles! The dramatic over-reaction by these horses to unlevel ground is both humorous and pitiful.
Some well meaning riders attempt to control the world around them to make things "safe" for their spooky horse. I've witnessed riders asking pedestrians to please hold their dogs, groundskeepers to turn off the lawn mower and bicyclists to stop long enough to allow them to ride by. At one time our house was located between the stable and the riding arena. One day a rider on the way to the arena asked my young daughters to stop jumping on the trampoline so she could ride into the arena.
Who will tell the deer in the woods not to jump out in the trail in front of our horse and who will prevent the covey of quail from suddenly bursting into flight just as we ride past their hiding place and who will caution the boys on the four wheelers to please stop and turn off their motors when they see a horse and rider approaching in the distance?
I see all these "real world" events as excellent training and bonding opportunities to develop a courageous horse that trusts me to guide him safely through the fearful maze of unknown objects, sudden movements and loud noises.
Even the "safe" arena might not be so comforting when the wind whipped vinyl sponsor banners begin flapping against the fence and the fluttering plastic bag billows and bounces across the ground making a bee line for your horse's tail, as the baby starts to cry at the top of her lungs and the public address system crackles into operation with maybe even one of those ever-popular feedback squeals!
My point is that every new and strange thing to which we can expose our horses and help them to calmly accept makes the next "scary" thing not quite so scary. Our horses become less fractious, more solid and dependable. This work must begin at home through a systematic "despooking" process in which "scary" items such as plastic bags, tarps, flags, etc. are presented to the horse in a gradual way using approach and retreat methods in order to teach the horse to accept the item and not be overwhelmed or frightened.
Once this is accomplished and you are ready to venture out into the real world with your horse, you may want to follow a more seasoned and settled trail horse so your horse may gain confidence from seeing the lead horse calmly cross obstacles and walk nonchalantly past "spooky" objects.
With proper training preparation for the horse and a positive and encouraging attitude from the rider, it won't be long before the horse is comfortable, calm and happy trekking across the countryside.
Taking the time and effort to prepare your dressage horse for trail rides will reap great benefits. Your horse will be mentally stimulated by seeing new territory, emotionally refreshed by a day out of the arena and physically conditioned by negotiating varied terrain. You'll become a more balanced and confident rider and you'll develop a much closer relationship with your horse that will carry over to higher scores in the dressage arena.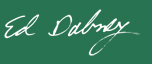 Ed Dabney is an internationally acclaimed clinician, presenting horsemanship and riding clinics all over the US and in Europe. In 2007, Ed was named Champion of the East Coast Trainer Challenge Series by Equine Extravaganza. Ed was honored to have been selected by the University of Georgia to teach their senior level Young Horse Training course.
His training articles have appeared in many major national magazines. Ed produces instructional videos and the "Gentle Horsemanship" TV program which has been seen on RFD-TV.
Ed's blending of natural horsemanship and classical equitation has made an indelible mark with students all across the United States and now also in Europe, drawing the attention of serious riders searching for the lightest touch and the deepest connection with their horses irrespective of breed or discipline.