Fall Colors Mountain Ride
and Trail Clinic
October 8-11
Big South Fork, TN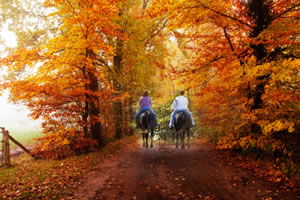 We look forward to you joining us for an exciting weekend of riding in the magnificent Big South Fork National River and Recreation Area. This mountainous land is excellent for horseback riding with miles of scenic trails offering breathtaking beauty, mountain streams and impressive rock formations. The free-flowing Big South Fork of the Cumberland River and its tributaries pass through 90 miles of scenic gorges and valleys containing a wide range of natural and historical features.

This will be a great opportunity to improve your riding skills, give your horse more trail experience and enjoy the fellowship of a great group of riders.

You should arrive at the beautiful Loree Guest Ranch http://www.loreeguestranch.com/index.html in the early afternoon on Thursday. You'll have time to put your horse in a stall or paddock, organize your gear and move into your private bedroom in the spacious and well appointed lodge that we've reserved for the weekend. Later that afternoon we'll gather with your horses at the arena for a short trail clinic conducted by Ed Dabney. During the clinic you'll be working on quality of control of speed and direction at all gaits, definite slow down and stop cues, balanced seat and correct posture, mounted slicker despooking, trail safety and trail etiquette.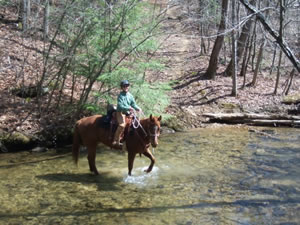 Thursday evening after a delicious catered dinner served in the lodge you may enjoy relaxing in the luxurious furnishings around the fireplace or try your hand at a game of billiards.

Friday morning after a hearty breakfast in the lodge we will pack our lunches to take with us for an all day ride along well maintained mountain trails. Friday evening finds us back in the lodge for another fantastic meal. After dinner Ed will entertain the group around the fireplace with some of his cowboy poetry and stories. We would love for any of you to share your musical or entertainment talents with the group as well.

Saturday will be a repeat of Friday with riding in a different area of the Big South Fork wilderness. Since it may be fairly cold in the mornings of our two full days of riding we will plan on being mounted and starting down the trail around 11:00 AM to give the sun time to warm things up a bit. We'll plan on ending our rides around 4:00 PM to be back at the lodge before dark.

After Sunday morning breakfast we'll head out for a two hour ride on different trails. We'll plan on returning to the lodge by early afternoon in order to pack up and head home.

Ed will be going along on the trail ride each day to assist with any horse training needs and convey additional instruction on safe and enjoyable trail riding. He'll be available all weekend for questions, personal assistance and consultation.

Most of the riding will be walk and trot. For those who want to do some cantering we'll temporarily split the group so canterers can go on ahead then the rest of the group will trot on up to catch up. You should be able to ride at a trot comfortably for several minutes at a time. You should be able to saddle and bridle your horse without assistance. You should be able to mount from the ground without assistance.

We think you will truly enjoy the great trails, magnificent scenery and the wonderful lodge we have reserved for the weekend. You may see photos of the lodge and location at http://www.loreeguestranch.com/index.html

Sign up today! Rider space is limited. Your spot will be reserved when we receive your total fee along with the completed reservation form that is attached to this email.

Total fee for the full four day weekend is based on the type of sleeping accommodations you choose. Prices shown are totals for four days and three nights. Here are the options:
Bedroom with Queen bed, balcony and private Jacuzzi bath. $995 for individual or $850 each person for a couple.
Bedroom with Queen bed sharing a hall access bathroom with two other bedrooms - $895 for individual or $750 each person for a couple.
Bedroom with two twin beds sharing a hall access bathroom with two other bedrooms - $895 for individual or $750 each person for a couple.
Large Bedroom with one Queen bed and two twin beds sharing a hall access bathroom with one other bedroom (perfect for a family or group of friends) - $895 for individual or $750 each person for a group.
Comfortable sofa near the fireplace sharing a hall access bathroom with one other bedroom - $500 for individual.
Camping out in the yard or sleeping in your horse trailer with access to the lodge bathroom - $400 each person.
The above prices include a stall or paddock for your horse (bring your own hay and feed), Ed's clinic and instructional fees, experienced trail guide and all lodging accomodations and meals from Thursday supper through Sunday lunch.
After a long day of riding you may want to treat yourself to a relaxing massage provided by our on-site professional massage therapist.  (Half hour $30, Full hour $60).
We can provide transport for you and/or your horse if necessary. Round trip horse transport fee is $175.

We have several well trained, gentle trail horses for rent if needed. The rental fee of $195 for the weekend includes horse, saddle, pad, bridle, stall and hay. The rental fee does not include horse transport.

Looking forward to a crisp autumn ride in the mountains with you!