---
Extreme Mustang Makeover
Ed was honored to be selected as a participating trainer in the Extreme Mustang Makeover competition Oct. 22 - 24 in Murfreesboro, TN.  In conjunction with and under the sponsorship of Carter Farms in Chattanooga, TN, Ed picked up his untouched mustang on July 17th.  These wild mustangs were recently rounded up from the open range in Nevada.  Each of the 100 trainers selected to compete in the Extreme Mustang Makeover will have 100 days to train their mustangs and then bring them to Murfreesboro, TN in October to show, before a live audience and a panel of judges, how much he has been able to accomplish with his mustang.  This promises to be a very exciting event! 
---

Spanish Stallions
Ed recently worked with renowned trainer and popular entertainer Laura Amandis and her Lipizzaner and Andalusian performance stallions. http://www.lauraamandis.com/.
Laura and her fine stallions spent a few days at the Ed Dabney Gentle Horsemanship Training Facility as we helped her start her young Lipizzaner stallion and worked on the art of classical riding, advanced liberty performance and the mounted haute ecole' movements.
---
Hastfocus Magazine
A four page article about Ed with color photos appeared in the May issue of Hastfocus magazine, Sweden's most popular horse magazine. http://www.hastfocus.se/Hastfocus/Valkommen.html
Cavallo Magazine
An article about Ed appeared in the October issue of Cavallo magazine, Italy's most popular horse magazine. http://cavallomagazine.quotidianonet.ilsole24ore.com
Il sussurratore alla corte del re di Franco Barbagallo Ed Dabney, il grande trainer statunitense, conquista l'Europa. Anche il re di Svezia lha voluto a corte per addestrare la propria Guardia Reale




---
Ed on You Tube
We've recently posted on You Tube a short series of instructional videos. The first group shows helpful tips for saddling. Watch for more to come in the near future. http://www.youtube.com/watch?v=IslxAy22D84
Elizabeth on Country Music Video
| | |
| --- | --- |
| | |
| Elizabeth Dabney | Templeton Thompson |
Ed's daughter, Elizabeth, is featured in several scenes on the new country music video, "Girls and Horses" by popular Nashville recording artist, Templeton Thompson. http://www.templetonthompson.com/
Elizabeth is an accomplished rider and trainer. She performs in drill teams and teaches all our youth lessons. She will be assisting Ed on his 2010 European Clinic Tour. You may view the video at http://www.youtube.com/watch?v=84crwQZVIgg
---
New DVD Ready For Release
"Finding Effective Solutions"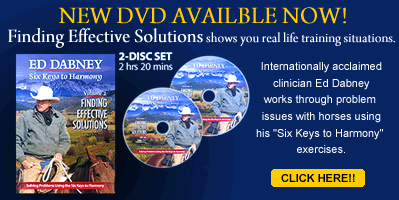 ---
Ultimate Horsemanship Challenge
Ed was invited to judge the Ultimate Horsemanship Challenge which was held on June 28th at the Rockin S Arena in Buckhead, GA  http://www.ultimatehorsemanshipchallenge.com/ .  Ed was impressed with the high level of horsemanship ability shown by all of the participants.  "I encourage folks to become involved in these types of events.  Negotiating difficult obstacles with your horse provides great benefits in building better relationships between horse and rider and certainly increases mutual confidence and trust."  Congratulations to Sue Vetsch and her crew for producing a top notch event!
---
Sicilian Riding Vacation / Clinic
Join us for an enchanted time of riding fine horses in the lush, rolling countryside of the ancient Mediterranean island of Sicily.  Upon your arrival at the historic and magnificent Contea di Wagner country house you'll be swept back in time to a bygone era of quiet beauty and graceful living.  The Contea di Wagner country house, located in the green plain of Catania, is surrounded by luxuriant citrus orchards which add a perfume of orange blossom to the air.
We are offering this riding holiday for the week of April 11 – 17, 2010.  We have a maximum of eight participants. The price of $2,850 includes all meals, guides, horseback rides, and ground transportation to and from the airport in Catania, Sicily.
Click HERE for additional information.
---