Please feel free to pass this newsletter along to your horse friends.
If you wish to subscribe to our periodic newsletter, please send an email to subscribe@eddabney.com.

Two National Magazines Feature Ed Dabney in Their November Issues
Second European Clinic Tour is Tremendously Successful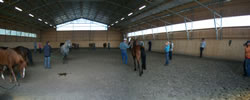 Ed's recent clinics in Finland and Sweden were very successful with maximum participants and full spectator seating.  The clinic hosts will be looking for a larger venue for our next visit there in summer 2009.  On this clinic tour reporters from three large newspapers along with Sweden's most popular equine magazine interviewed Ed and published articles about his training methods.  A four page article about Ed with photos was also published in a Finnish equestrian magazine.   You may see the newspaper articles on our web site at: http://www.eddabney.com/pdf/news-finland-press.pdf 
Ed wishes to thank Mats Storbjork and Kenneth  Puskala for their hard work and efforts in promoting and organizing the Kokkola clinic.  Ed also extends his appreciation to  Katja Vanhatalo for organizing and  hosting Ed's clinic at her Revon Ranch and Madeleine Forsgren and family for organizing and hosting the Stenbro clinic.
Ed Conducts Horsemanship Clinic for King's Royal Mounted Palace Guard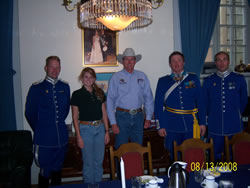 While in Sweden Ed was honored to have been invited to the royal palace of HRH King Carl Gustav XVI in Stockholm to observe, evaluate and conduct a horsemanship clinic for the King's own regiment of mounted Royal Palace Guards.  This is the world's oldest cavalry company having been in continuous operation for over 500 years.  
In the morning Ed and Maddie were taken to the Regimental headquarters to meet the officers and observe the solders preparations for that day's ceremony to be held at the palace which is a 40 minute ride by horseback from the Regimental HQ through the streets of Stockholm.  When the cavalry rode out for their march to the palace, Ed's group were taken by car to the palace and escorted to a private VIP viewing area overlooking the cobblestone courtyard of the palace.  Thousands of tourists and spectators were packed in, standing around the edge of the large courtyard and spilling out into nearby streets.  The "changing of the guard" ceremony was truly magnificent with its impressive execution of precise platoon movements by cavalry soldiers all in shined and spotless parade dress uniforms and tack.  The Royal Guard cavalry soldiers were even accompanied by a complete mounted military brass and percussion band.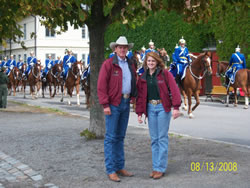 After the ceremony Ed and Maddie along with Ed's European agent Madeleine Forsgren and her son Jarl, were escorted to a private, beautifully appointed dining room inside the palace with a table prepared for lunch for eight.  The dining table was set with silver, crystal and fine china emblemized with the royal crest.  It was a rare atmosphere of Baroque architecture, antique furniture and oriental rugs.  The high walls were lined with oversize ancient oil paintings of past monarchs engaged in great battle scenes.  Over lunch with the Major of the Guard and his top officers, Ed was asked his opinions of the riders and horses, about his training methods and his ideas for improving the soldier's horsemanship and riding skills.  The lunch was a delicious shrimp dish prepared by the palace chefs.  Lunch at the Palace, Wow!  
After lunch they were taken back to the Regimental Headquarters where, with the assistance of Jarl and Ed's daughter Madeline, Ed conducted a horsemanship clinic with the soldiers and officers including the chief riding instructor and the director of the regimental training program.  Dinner with the officers in their headquarters dining area finished off a most amazing day.
Ed has been invited to return to the Royal Guard Regiment for more advanced training clinics in the future. 
Ed wishes to thank Major Hans Augustin for his warm hospitality and for his efforts in making arrangements for Ed's clinic.
Here are some photos from that day:
The Palace of HRH King Gustav: http://www.new.facebook.com/album.php?aid=54737&l=c3a70&id=690884041
(They are from Maddie's facebook page so she added her own captions.
US Guests Enjoy Enchanted Time on French Riding Holiday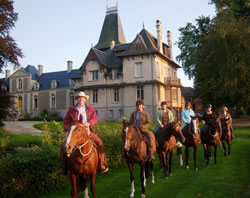 A small group of guests joined Ed and Maddie at Chateau de la Boulaye in Cerisy la Foret, France for an enchanted time of living in a 16th century castle and riding fine horses in the lush, rolling French countryside. Upon their arrival at the historic and magnificent Chateau de la Boulaye they were swept back in time to a bygone era of quiet beauty and graceful living. After settling in to their spacious quarters in the Chateau, a stroll around the manicured grounds revealed the elegant ambiance of this beautiful property. A number of centuries old, stone out-buildings including the private chapel of Gothic Revival architecture, the cider brewery and, of course, the traditionally designed stone and timber stable complex with high walls and buildings enclosing the riding courtyard complete the Chateau compound. Past the stable is a dressage arena and a wonderful cross country jumping course complete with natural log and water jumps. As you amble along the grass lanes lined with ancient hardwoods, you'll come upon a beautiful lake which reflects the back view of the Chateau. Beyond the lake are 400 acres of rolling pastures which are home to the Chateau's forty well bred horses.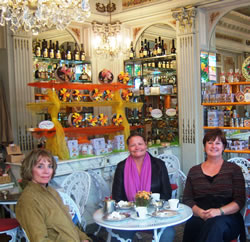 For the four weeks prior to the guests' arrival all the guest horses were taken through Ed's Six Keys to Harmony foundation training program, by Ed and his staff, to insure the horses would be safe and dependable.
During the guest week everyone improved their riding skills by participating in several group lessons in horsemanship and classical riding instructed by Ed Dabney. The daily horseback rides around the Chateau property, on the excellent trails of the adjoining 5,000 acre national forest and through nearby quaint villages were thoroughly enjoyable. Riding through the villages is a truly unique and cultural experience. In one of the villages we stopped for lunch at a popular sidewalk café while our horses were kept in a nearby courtyard. For another lunch during a forest ride, the guests were surprised with a very elegant picnic complete with china, crystal and even Creme Brulee' for desert! The guests were completely pampered by "life in the castle" featuring spacious accommodations, gourmet French cuisine, fine wines, tea and French pastries each afternoon, horses tacked and untacked for them and generally being treated like royalty!
Chateau de la Boulaye's location near Omaha Beach, site of the US troops landing on D Day during World War II, placed it in the center of activity for the days following D Day. In fact, General Eisenhower lived at Chateau de la Boulaye and made it his headquarters for a time during the liberation of France. The Chateau was also General Bradley's headquarters. Because of the historical significance of this area, our guests participated in a half day battlefield tour. The educational and emotionally moving tour was guided by the extremely knowledgeable and charming retired British General Graham Hollands. After the battlefield tour the guests had the rest of the day on their own in the beautiful and historic city of Bayeux. Here they had the opportunity to shop in a large variety of specialty shops lining the narrow streets of the old downtown area, have tea and pastries at Mathilda's, see the famous ancient Bayeux Tapestry and the magnificent 11th Century Bayeux Cathedral. In the evening we dined at Bayeux's most exclusive restaurant, La Pommerie, for an incredible meal of the finest French cuisine.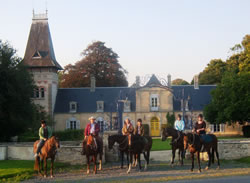 We'll be offering riding holiday weeks during June of 2009. We have a maximum of eight participants per week (based on double occupancy). Please contact us for more details, pricing information and specific dates available. There are many activities for a non-riding guest such as golf, fishing, sight-seeing, shopping, hiking, bicycling or just relaxing by the lake with a good book.
Chateau de la Boulaye is a privately owned estate and has just recently been open to the public. This is truly a unique opportunity to enjoy the experience of living and riding at this beautiful and historic Chateau.
We look forward to you joining us for this exciting and elegant riding vacation.
Testimonies from 2008 Guests:
Ed & Maddie,
Thank you for such an incredible journey in France! You two made the trip so special! I will always have great memories and am so glad I was able to go! And thank you for the "perfect" horse! An experience to treasure!
Debbie Mullinax
---
Ed,
Thank you again for a wonderful trip to France. It was a dream come true for me.
Lori Barefoot
---
Ed,
Many thanks for a fun filled riding adventure. The Chateau is a beautiful place to come and feel totally relaxed. Geordie Miller
---
Ed wishes to thank the owners of Chateau de la Boulaye, Gerd and Christine Sander and their wonderful staff for their warm hospitality and hard work devoted to making this a truly grand and memorable experience for our guests as well as Ed and his staff.  Ed also wishes to thank Janice Gardner and Laurie Wilson for their hard work and devotion of several weeks of their time joining him in France to assist with training horses and taking care of many details in preparation for the arrival of guests.
California "Yoga and Riding" Clinic at Highland Ranch was Enjoyed by All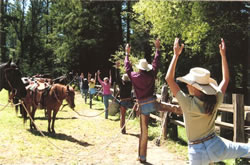 Ed joined master Yoga instructor Susie Cohen for the Highland Ranch Yoga and Riding Weekend Clinic October 16 ~ 19. Located in the midst of wine country and the magnificent redwood forest, the serene and beautiful Highland Ranch in northern California's scenic Mendocino County was the perfect setting for a very enlightening and productive clinic. The clinic participants were immersed in the weekend's themes of Awareness, Balance and Connection which applied perfectly to both yoga and riding. Group yoga sessions in the ranch's authentic Yurt were followed by individual seat lessons to develop the centered and balanced classical riding seat. Clinic participants gained higher levels of
awareness of the rider's body and the horse's body moving together,

balance- both internal and on the horse and

connection to oneself and to the horse. These themes were practiced on several contemplatives and relaxing trail rides through the impressive redwood forests which surround the ranch. Gourmet meals, fine California wines and cozy accommodations made the entire weekend most memorable.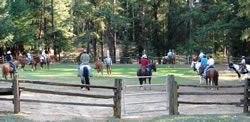 Ed is scheduled for a repeat of this clinic in April 2009. For that clinic several additional days may be added in order to reach more advanced levels of yoga and riding.
Ed wishes to thank Jim, Susie, Rob, Bobby, Danielle and all the great folks at Highland Ranch for their hard work and dedication which made this an ideal clinic experience for everyone.
http://www.highlandranch.com/Wellness/YogaandRiding08.html
Ed to Judge East Coast Trainer Challenge Finals
And Present Demonstrations at the Virginia Equine Extravaganza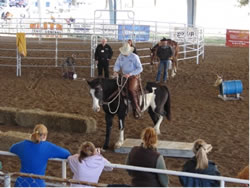 Ed has been invited to serve as a judge for the finals of the East Coast Trainer's Challenge to be held at the Virginia Equine Extravaganza in Richmond, VA Oct. 31 – Nov. 2.  The competitors in this event have already competed and won preliminary events in Arkansas, Illinois and North Carolina and have now qualified for the finals.  In 2007 Ed won the title of East Coast Trainer's Challenge Champion by winning both the North Carolina and the Virginia Trainer Challenge. 
Ed will also be presenting several horsemanship demonstrations on a variety of interesting topics during the weekend. The Virginia Equine Extravaganza promises to be a fun, informative and exciting event.  We hope to see you there!
www.equineextravaganza.com
Charity Ride-a-Thon - Saturday Nov. 15
Please join us at the Ed Dabney Gentle Horsemanship Training Center in Dacula, GA for a fun trail ride and cook-out to benefit SonRise Camp, a wonderful therapeutic riding center in Gainesville, GA.
This opportunity is great for novice as well as advanced riders so bring your horse and join in the fun. Separate trails are available for walkers if you do not have access to a horse or a limited number of horses may be available for a rental donation.
Lunch around the campfire and a commemorative T-Shirt is provided for all riders and walkers who bring in the required $50.00 or more in donations. Other prizes are awarded to top pledge earners. For more information visit their website at www.sonrisecamp.org or contact Janice at 678 450-6905 or Stephanie at 770 312-6483.
Make a joyful shout to the Lord all you lands.  Serve the Lord with gladness.  For the Lord is good His mercy is everlasting and His truth endures to all generations.
Psalm 100: 1, 2 & 5
Ed is proud to use, recommend and be associated with these companies and their fine products.
Please click below to visit our partners and sponsors.
To be removed from this newsletter, please send an email to
remove@eddabney.com
. No subject line or content required.