No Experience Necessary
Even if you do not own a gun, have no experience with guns or are afraid of guns, this class is perfect for you. No gun ownership or prior experience or knowledge is required. This course is designed for beginners to dispel any fear of handguns and to become skilled and confident at safely handling and firing a handgun.
Learning the Basics
We will thoroughly and patiently cover the most basic elements of safety rules, how the gun works, loading and unloading, how to hold the gun, how to stand when shooting, aiming, breath control and trigger control. When you are completely comfortable with these items, we will move on to dry fire (empty gun) practice until you are totally comfortable with handling your gun. You will become very familiar with the handling and operation of the gun and will learn that it is just a mechanical tool like a wrench or a drill and that it cannot operate on its own.
The Class
Our Self Defense Handgun Course is an 8 hour course including classroom and dry fire portion along with live fire on the firing range. The participant fee is $150 per person. If you would like to just come observe the class, the fee is $25. Classes can be scheduled any day of the week except Sundays. The class can be divided into segments and taught on different days if that is more convenient for the group. A carry permit (Georgia Weapons License) is good to have but is not required to take this course.
Real World Situations
There are no more than 5 participants in the class so everyone receives plenty of personal attention and shooting time. Detailed instruction will be given on safe and confident gun handling and how to shoot accurately and quickly. The course has a strong emphasis on developing the mental preparedness, skills and ability necessary to effectively defend yourself and others in real world, practical situations you may encounter at any time whether in public, in your vehicle or at home.
We will discuss and demonstrate how to avoid the necessity of using your gun for self-defense by developing an attitude of situational awareness and how to keep yourself safe in a variety of specific, every day scenarios such as parking lots, gas stations, convenience stores and shopping malls. We will discuss and demonstrate how you should respond to personal attacks such as threats, attempted robberies, kidnapping, car-jacking, home invasions and terrorist or active shooter situations.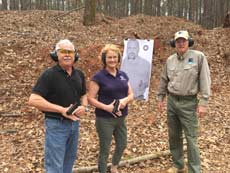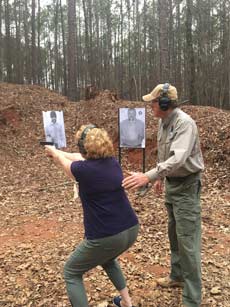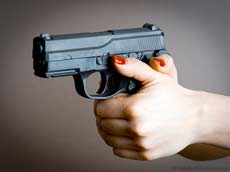 For Experienced Shooters Also
In this class, even experienced shooters will learn new techniques and greatly improve your draw stroke, speed of fire and front sight accuracy especially since we will be practicing self-defense combat shooting in real life scenarios involving moving while drawing and shooting at multiple targets. You will learn to use cover, position and distance to increase your safety and effectiveness. You will be able to draw from concealment and fire at least two accurate shots on target within two seconds. This skill is vital to survival in a close range attack.
Other Topics
We will also cover the legal and moral aspects of the use of deadly force, when it is justified and when it is not. There will be instruction on choosing the handgun, holster and carry situation that is comfortable for you. At the end of this course you will be prepared and confident with your skills and your equipment.

Instructor Qualifications
Ed Dabney is a former law enforcement officer, graduate of the police academy, Director of Security at his church and Certified NRA Handgun Instructor. Ed was a licensed Outfitter and Hunting Guide in the Wyoming Rocky Mountains. He has been hunting and shooting all his life. Over the past 40 years he has taught many people how to safely handle and accurately shoot all types of firearms.
Please contact us if you have any questions of if you would like to participate in a class.
Dabney Defense
training@eddabney.com
770-314-9254